Which trends are in store for next year's autumn-winter? Zoom Fashion Trend magazine has intercepted dramatic realism, cartographic precision and a look at pop culture.
Fashion's eye is always to the future, so Zoom Fashion Trend magazine has put the spotlight on FW 24/25 trends, and here at Maglificio Pini the interest is considerable: we are already at work with new ideas!
The season is shaping up to be truly amazing, with inspirations taking lifeblood from different eras and artistic movements. Thus, three different universes are born, each characterized by a unique and bold style: Drama, Escape Maps and The Clash.
Baroque art inspires Drama
The first trend is inspired by Baroque art, particularly the famous painting Judith Beheading Holofernes by Artemisia Gentileschi: its name is Drama. The style is filled with gloomy atmospheres and dark images, characterized by acts of great impetus and passion. At the center we find strong characters such as, alongside Judith herself, Jael, Solomon, Medusa and Lucretia, who inspire the shades of the palette used.
In this regard, prominent among the colors is Lucretia red, a symbol of passion and intensity, which colors dramatic blood red lace. The garments follow a strong line, with elegant and refined details that recall Baroque art. Refined fabrics and fine workmanship make each outfit an authentic work of art, capable of capturing the attention of anyone who looks at it and with a strong realist touch.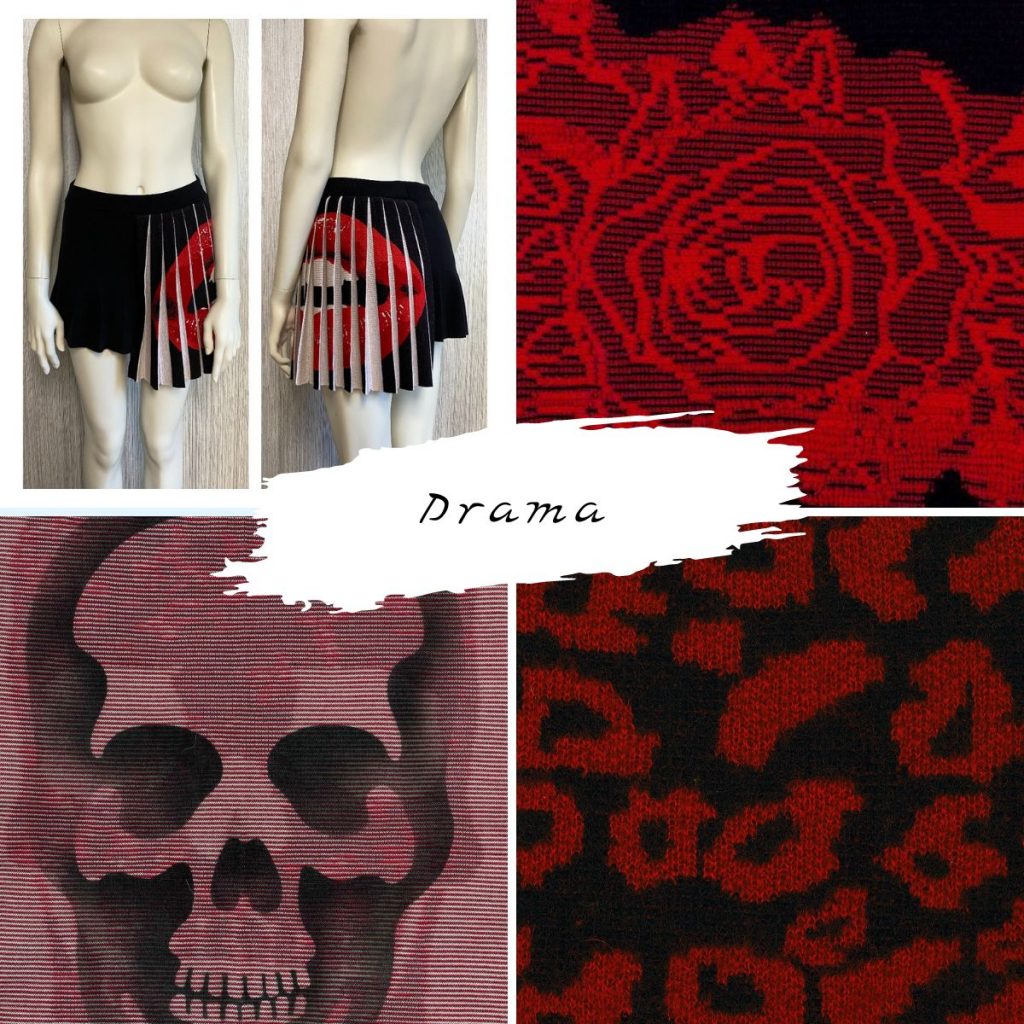 Textile cartography of Escape Maps
Then it's the turn of Escape Maps, a trend that finds inspiration in World War II history, when soldiers hid maps with escape routes by sewing them into their clothing. This style considers maps of all kinds, from ancient scrolls to Google Maps, from CAI routes to aerial photographs.
The color palette is inspired by the hues of cartography, but also by those suggested by nature: city beige, deep mountain green, frontier red, inspired by the thin lines that draw borders; and then light ocean blue and the brown of the routes, all paired with a soft green that recalls the plains.
The garments follow a fluid, irregular line and are made from natural, breathable materials that give a touch of authenticity to each outfit.
The vitaminic exuberance of The Clash
Last, and certainly not least, here is The Clash, a trend inspired by the fashion of the 1980s, but also by new musical waves, Harajuku and K-pop. This style is characterized by a new vision of fashion, based on color anarchy and dynamic lines, with exaggeration in the size and volume of garments.
Hallmarks include padding and matelassé, as well as a mixture of materials and vitaminic colors. Outfits become a true expression of creativity, with a mix of bold and playful elements. The fluid, loose and structured garments allow for daring and experimenting with new combinations, releasing the true essence of the wearer.
It seems that next year's fall-winter will hold three ways for us to explore different eras and inspirations, from the dramatic power of Baroque art, to the functionality of geographical maps, to the exuberance of the 1980s and pop culture. Here at the Maglificio, we look forward to bringing new collections to life!